Bud Smith E. Creating Web Pages For Dummies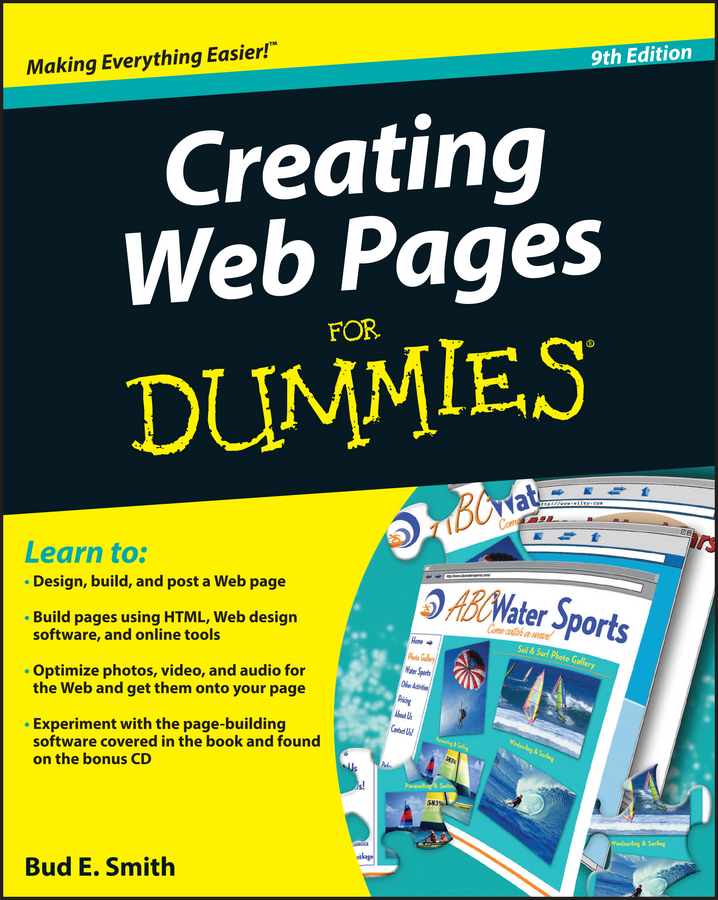 It's easy to design, build, and post a Web page with Google Page Creator or CoffeeCup HTML Editor, but a friendly guide still comes in handy. Creating Web Pages For Dummies®, 9th Edition introduces you to Web design software and online page-building tools, and walks you through the process in record time. Like its previous editions, this book gives you the skinny on getting Web pages up and running with the least amount of hassle. But not just ho-hum Web pages! Yours will look fantastic and be easy to build, and you'll even get a trial version of CoffeeCup HTML Editor and visual design tools on the bonus CD. You'll learn to: Get a simple page designed and online by the end of Chapter 3 Optimize photos, video, and audio for the Web and get them onto your page Register for a Google account and use the versatile Google Page Creator Build pages using basic HTML or CoffeeCup HTML Editor Identify and apply elements of design, avoid common errors, and create pages that get noticed Maintain control by creating and editing pages in HTML with a text editor Understand how image file size affects your pages, how to upload photos to Flickr, and how to add sound and video files to your Web pages Develop your pages into a site with CoffeeCup HTML Editor and Visual Editor You'll even find out more about blogging and Blogger.com. The trial software on the CD is for Windows, but the instructions for building great Web pages work on any system! Note: CD-ROM/DVD and other supplementary materials are not included as part of eBook file.
Подробнее
Bill Sanders Smashing HTML5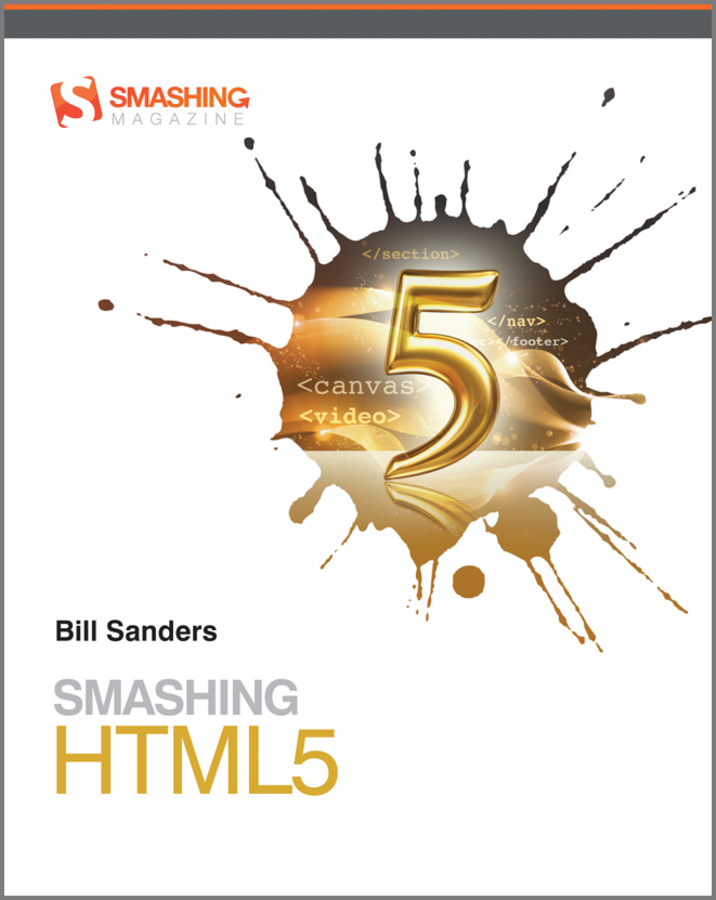 Welcome to HTML5 – the future of the Web HTML5 is packed with great new features, including new content-specific elements, audio and video playback, canvas for drawing, and many others. But where to begin? With Smashing HTML5, you have everything you need to get up and running quickly. Bill Sanders is a professional Web developer, information and interface designer, and instructor. His expertise and knowledge shared throughout Smashing HTML5 will help fast-track you toward building next-generation Web sites. Smashing HTML5 provides comprehensive coverage – from how to get started with HTML5 to optimizing media on the Web. You will learn how to use text, graphics, audio, video, and navigation in HTML5 Web pages running in compatible browsers. You will also learn how to: Work with HTML5 tags Design page structure Make site navigation easy for your audience Integrate media including video into HTML5 pages Harness the power of the HTML5 canvas Use HTML 5 forms Create interactivity, store information, and much more Smashing HTML5 is an essential read for Web designers and developers looking to transition to HTML5. With this book, you'll be able to create Web pages that not only look great, but also take advantage of the new features HTML5 has to offer.
Подробнее
Richard York Beginning CSS. Cascading Style Sheets for Web Design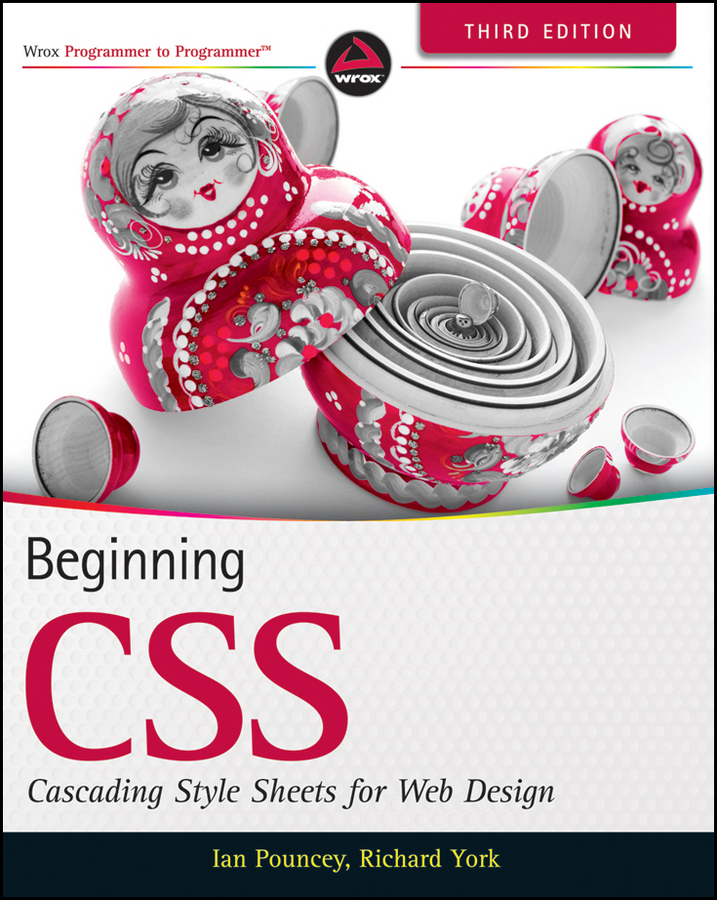 Completely updated material and new examples show you what CSS can do With the latest versions of Firefox, Safari, Internet Explorer, and other browsers released, CSS is more essential than ever. This beginner guide demonstrates how cascading style sheets can be used to define styles to items in Web pages, rather than format each item individually. Each lesson in this full-color book has been methodically revised to be more concise and efficient, making your learning experience as productive as possible. Covers the latest in CSS, including the new features of Internet Explorer, Firefox, Safari, and Google Chrome Reviews the vast improvements to mobile browsers and how CSS can work with them Provides helpful examples and walks you through real-world solutions to common hurdles Discusses embedded fonts, compatibility tables, and cross-browser bug scenarios Beginning CSS, Third Edition gets you completely up to date so that you can start using CSS in the newest Web and mobile browsers today!
Подробнее
Sue Jenkins Web Design All-in-One For Dummies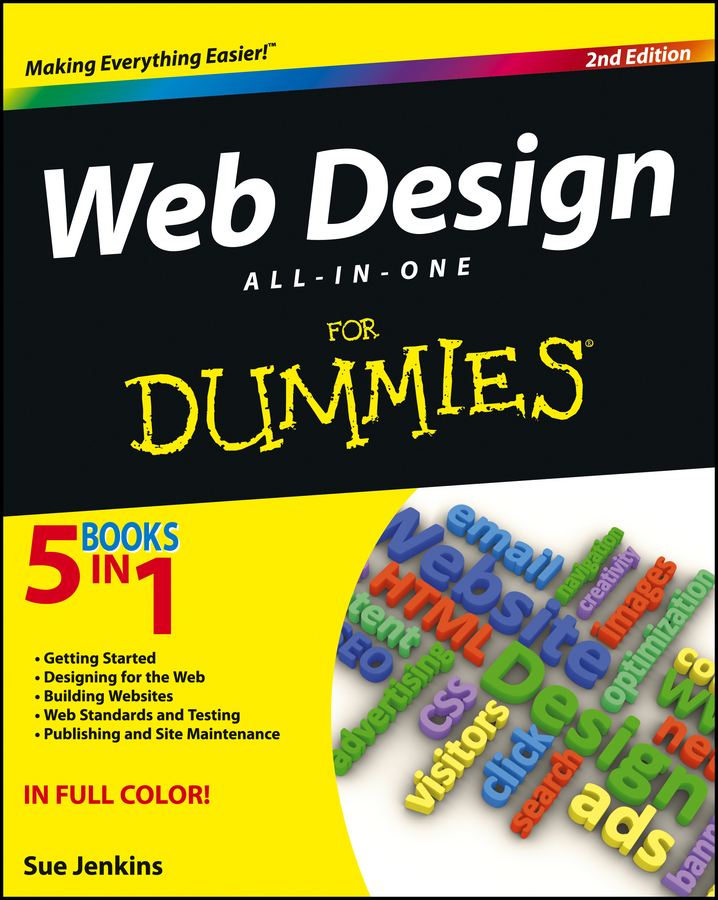 All you need to know on web design in a thorough new edition If you want just one complete reference on web design, this book is it. The newest edition of this essential guide features 650+ pages on the latest tools and new web design standards, such as HTML5, CSS 3, and other core technologies and page-building strategies. Five minibooks provide deep coverage: essential pre-design considerations, how to establish the look of your site, building a site, how to test your site, and taking your site public. Design professional and author Sue Jenkins understands what designers need and gives you the answers. Thorough revision brings you up to date on the latest changes in the world of web design Features five minibooks that cover all the bases: Getting Started, Designing for the Web, Building the Site, Standards and Testing, and Publishing and Site Maintenance Covers the latest tools, page-building strategies, and emerging technologies, such as HTML5 and CSS 3 Includes over 650 pages of detail on such topics as establishing audience focus, creating content, using mock-ups and storyboards to establish the look, how to design for text and images, testing your site, and more If you're looking for an in-depth reference on all aspects of designing and building a site and taking it live, Web Design All-in-One For Dummies, 2nd Edition is the book.
Подробнее
Janet Valade PHP and MySQL For Dummies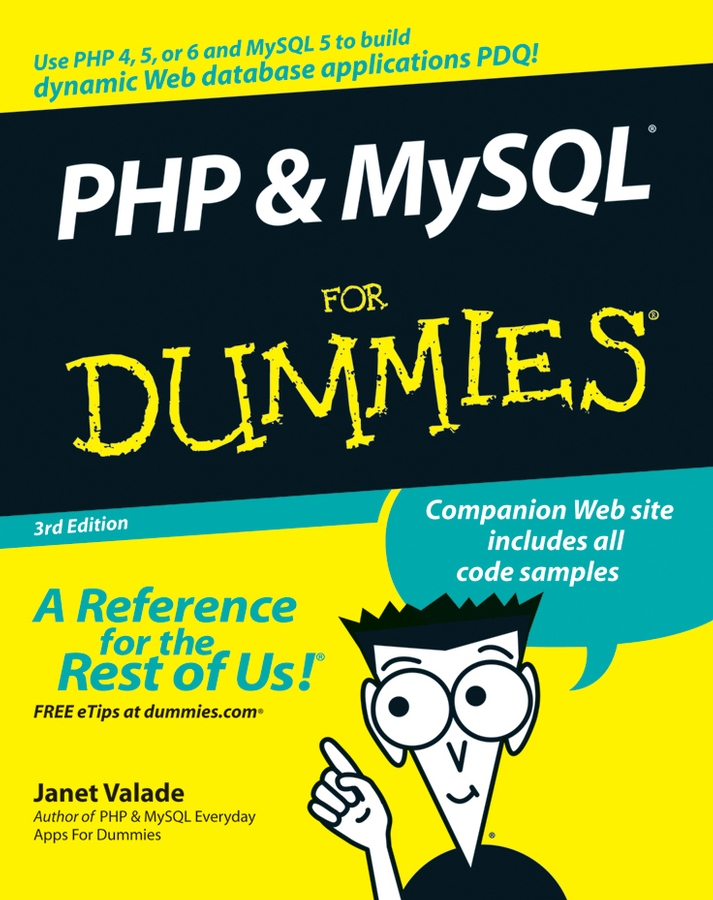 Build an online catalog and a members-only site Everything you need to know to create a dynamic PHP and MySQL Web site! Been thinking of creating a high-quality interactive Web site? This book is just what you need to get started! Here's the fun and easy way(r) to develop a Web application in PHP 4, 5, or 6 and MySQL 5, test your software, enable your Web pages to display, change, and move database information, and much more. Discover how to * Plan and implement a Web database application * Design and build a MySQL 5 database * Build dynamic HTML forms * Create scripts that store, retrieve, and update database information * Display database information in a Web page
Подробнее
Phishing Exposed
Uncover Secrets from the Dark Side Phishing Exposed provides an in-depth, high-tech view from both sides of the phishing playing field. In this unprecedented book, world-renowned phishing expert Lance James exposes the technical and financial techniques used by international clandestine phishing gangs to steal billions of dollars every year. The book is filled with technically detailed forensic examinations of real phishing scams. Armed with this invaluable intelligence, law enforcement officers, system administrators, and fraud investigators can resolve existing cases and prevent future attacks. Identify the Three Classes of Phishing Attacks-- Go behind the scenes to learn how phishing gangs execute impersonation, forwarding, and popup attacks. Uncover Phishing Servers and Blind Drops-- Follow the trail from hostile Web servers to anonymous e-mail accounts where stolen data is stored. Learn How E-mail Addresses Are Harvested-- See how phishers use bots and crawlers to scour the Internet for valid e-mall addresses to attack. Detect Cross-Site Scripting (CSS) Attacks-- Watch as phishers use CSS attacks to hijack browsers, steal cookies, and run malicious code on Web browsers. Exploit the Secure Sockets Layer (SSL--) Implement cross-user vulnerabilities to render SSL certificates null and void. Follow the Money -- Untangle the intricate web of international money laundering. See the Future of Phishing-- Learn how new pharming techniques use DNS poisoning to redirect online traf...
Подробнее
Aaron Vegh Web Development with the Mac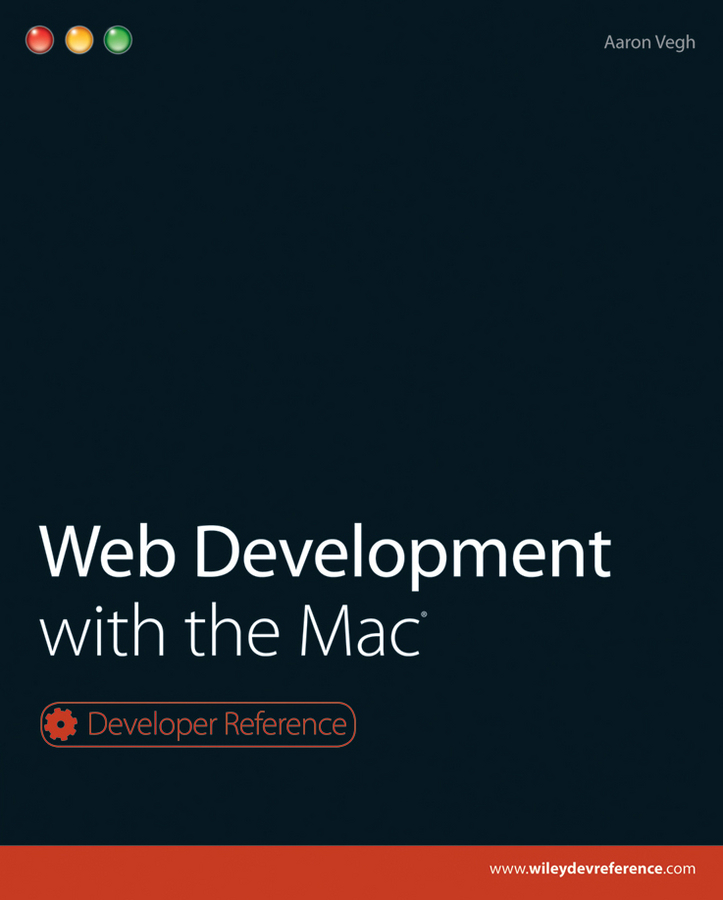 Everything you need to know to create Web sites using your Mac Create and deploy striking Web sites and apps on a Mac for your own business or for clients using the essential techniques in this focused guide. While most Web site how-tos are geared toward either designers or programmers, this detailed book covers both aspects, helping you develop the complete skill sets that you'll need professionally. Tap all of the out-of-the-box perks that Apple has to offer for Web development with these techniques and insights from a seasoned Mac Web developer. Takes you through everything that Macs have to offer for Web development, such as a Web server, PHP, and Ruby on Rails; Macs come with these right out of the box, making setting up a Web development environment pushbutton-easy Reveals the science and the artistry behind creating beautiful and intuitive Web pages using Apple technology Covers the technical elements of Web page construction with HTML, CSS, Javascript, PHP, and Rails; then goes beyond to show you how to add creative flair using Photoshop Turn your design and development skills into marketable assets with this essential guide for Apple users. Note: CD-ROM/DVD and other supplementary materials are not included as part of eBook file.
Подробнее
Нолан Хестер FrontPage для Windows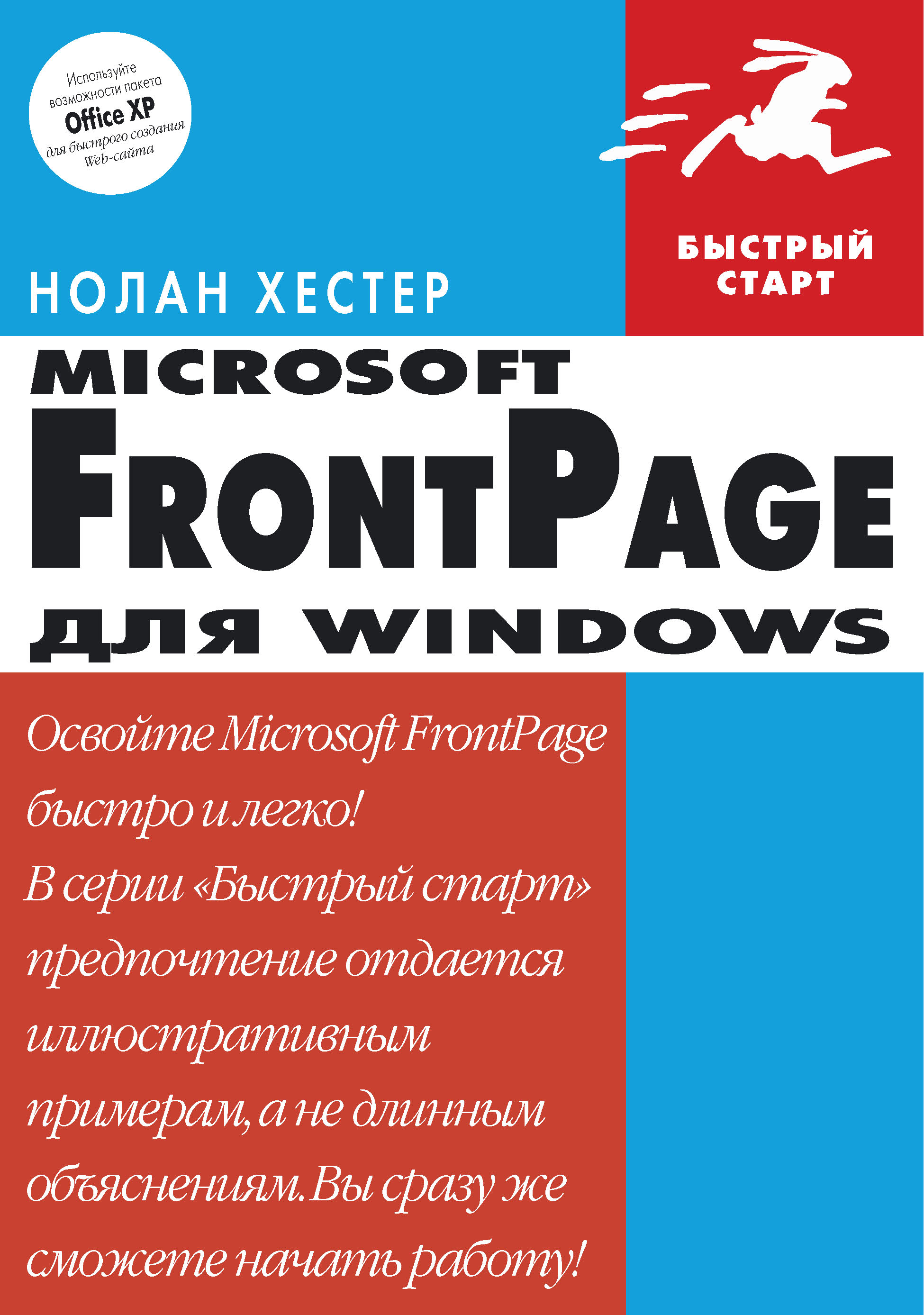 Книга посвящена приложению FrontPage – автоматизированному средству создания Web-страниц и Web-сайтов. Этот профессиональный конструктор позволяет создавать сайты, а также настраивать и поддерживать их на Web-серверах. С помощью данной книги вы научитесь разрабатывать общую структуру сайтов, формировать страницы, из которых будет состоять структура, добавлять интерактивные средства и эффекты мультимедиа и, наконец, размещать готовые сайты в Internet путем загрузки файлов на Web-сервер. Особое внимание уделено новым инструментам Front Page, таким как область задач, строка ссылок, Database Interface Wizard, панель Рисование, Автофигуры и т.д. Издание предназначено для начинающих Web-дизайнеров, но благодаря подробному описанию обновлений версии может представлять интерес и для опытных пользователей FrontPage.
Подробнее
Ben Hunt Convert!. Designing Web Sites to Increase Traffic and Conversion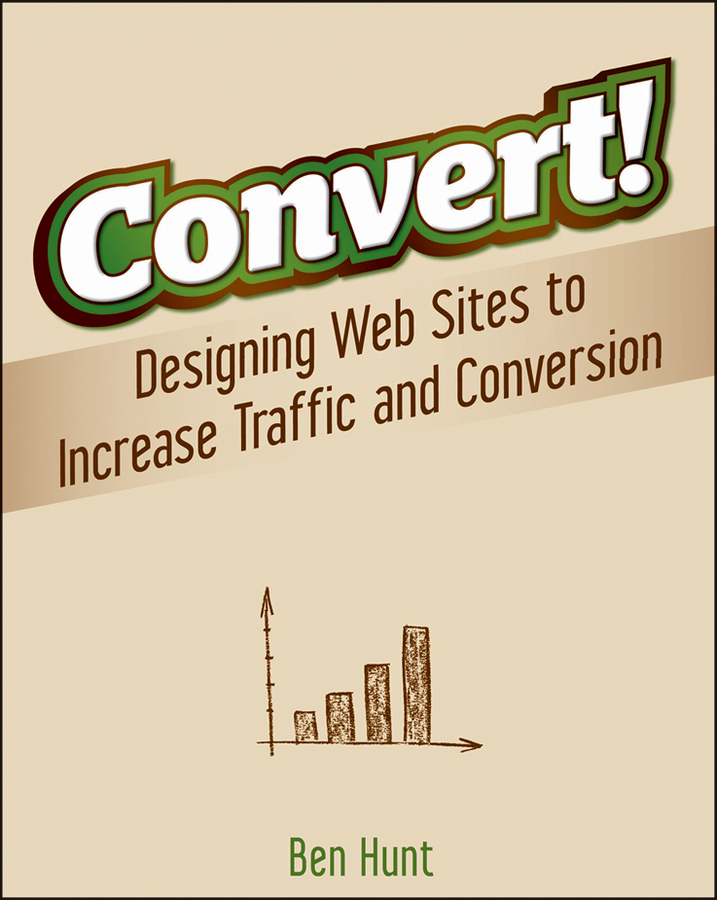 Solve your traffic troubles and turn browsers into buyers When web design expert Ben Hunt set out to quantify the difference between an ordinary web site and a great one, he expected to find the key in design simplicity. But when his team more than doubled the conversion rates for a wide range of sites, they identified simple yet powerful solutions involving design, copy, appropriate analysis, classic optimization techniques, and targeted testing. You'll find the fixes easy to implement, and they're all right here. Understand the essentials – your market, your proposition, and your delivery. Create a site that is seen by the right people, provides a compelling experience, and generates the desired action. Learn how to use testing to improve your site's conversion rate. Discover the holistic nature of web site optimization and why multiplicity matters. Examine dozens of simple techniques for building traffic, engaging your audience, and crafting effective calls to action. Combine creativity with analysis for the best possible results. Ben Hunt is Principal Consultant for Scratchmedia Ltd. He operates webdesignfromscratch.com, which provides tutorials and advice to over 120,000 web developers each month. Ben has been designing, coding, and producing web sites for clients worldwide for more than 15 years, and is considered a leader in the web usability industry. Forewords by Ken McCarthy, founder of the System Seminar, and Drayton Bird, Drayton Bird Associates.
Подробнее
Wade Alcorn The Browser Hacker's Handbook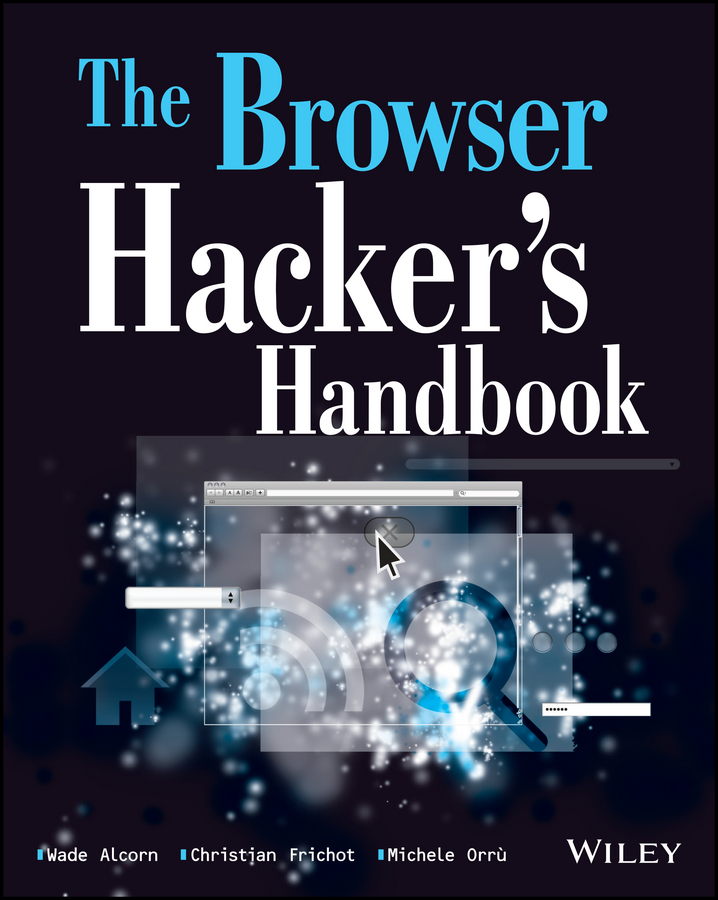 Hackers exploit browser vulnerabilities to attack deep within networks The Browser Hacker's Handbook gives a practical understanding of hacking the everyday web browser and using it as a beachhead to launch further attacks deep into corporate networks. Written by a team of highly experienced computer security experts, the handbook provides hands-on tutorials exploring a range of current attack methods. The web browser has become the most popular and widely used computer «program» in the world. As the gateway to the Internet, it is part of the storefront to any business that operates online, but it is also one of the most vulnerable entry points of any system. With attacks on the rise, companies are increasingly employing browser-hardening techniques to protect the unique vulnerabilities inherent in all currently used browsers. The Browser Hacker's Handbook thoroughly covers complex security issues and explores relevant topics such as: Bypassing the Same Origin Policy ARP spoofing, social engineering, and phishing to access browsers DNS tunneling, attacking web applications, and proxying—all from the browser Exploiting the browser and its ecosystem (plugins and extensions) Cross-origin attacks, including Inter-protocol Communication and Exploitation The Browser Hacker's Handbook is written with a professional security engagement in mind. Leveraging browsers as pivot points into a target's network should form an integral component into any social engineering or red-team security assessment. This handbook provides a complete methodology to understand and structure your next browser penetration test.
Подробнее
Search the world's information, including webpages, images, videos and more. Google has many special features to help you find exactly what you're looking for.
https://www.google.com/?gws_rd=ssl
Introduction This is a CGI program to keep record of the raw hits of a web page. It generates a GIF image of the number of hits and returns to the browser as an in ...
http://muquit.com/muquit/software/Count/Count.html
Search engine robots that visit your web site. Contents of this page. Search engine robots and others Browsers Link Checkers, Link monitors and bookmark managers
http://jafsoft.com/searchengines/webbots.html
Mozilla Firefox (or simply Firefox) is a free and open-source web browser developed by The Mozilla Foundation and its subsidiary, Mozilla Corporation.
https://en.wikipedia.org/wiki/Firefox
Where can I find more information about Microsoft Word on the Web? This page last revised: 25 Apr 2018 11:42:08 -0400. Other (more extensive) FAQ pages ...
http://www.addbalance.com/word/wordwebresources.htm
Nitro PDF's PrimoPDF is a free tool that converts all kinds of files into PDFs that you can open, edit, and manage with your usual PDF application (Nitro has
https://download.cnet.com/PrimoPDF/3000-18497_4-10264577.html
Geb is a developer focused tool for automating the interaction between web browsers and web content. It uses the dynamic language features of Groovy to provide a ...
http://www.gebish.org/manual/current/
Cambria® Hotels by Choice Hotels offer modern and stylish business hotel rooms which are also perfect for any kind of travel! Book now on the official site!
https://www.choicehotels.com/cambria
I'm wondering how browsers internally works. Now, connecting to different Web sites using 'Tabs' within the same browser can be handled in one of two ways: 1 - Using ...
https://stackoverflow.com/questions/6632801/do-web-browsers-use-different-port-numbers-for-open-tabs
View and Download Panasonic FP Web-Server user manual online. FP Series Programmable Controller, Hardware / Configuration. FP Web-Server Server pdf manual download.
https://www.manualslib.com/manual/540380/Panasonic-Fp-Web-Server.html
Kindle, 6" glare-free touchscreen display, designed as a dedicated e-reader. Touchscreen display that reads like paper, no screen glare even in bright sunlight.
https://www.amazon.com/Amazon-Kindle-eReader-6-Inch-Touchscreen/dp/B00ZV9PXP2
Buy Seagate 2TB FireCuda Gaming SSHD (Solid State Hybrid Drive) - 7200 RPM SATA 6Gb/s 64MB Cache 3.5-Inch Hard Drive (ST2000DX002): Internal Solid State Drives ...
https://www.amazon.com/Seagate-FireCuda-Gaming-Solid-Hybrid/dp/B01IEKG2HM
The history of the Opera web browser began in 1994 when it was started as a research project at Telenor, the largest Norwegian telecommunications company.
https://en.wikipedia.org/wiki/History_of_the_Opera_web_browser
Read the latest stories about Tech on Fortune
http://fortune.com/section/tech/
Latest trending topics being covered on ZDNet including Reviews, Tech Industry, Security, Hardware, Apple, and Windows
https://www.zdnet.com/topic/
Self-executing focus event via autofocus#7 test. This vector uses an input element with autofocus to call its own focus event handler - no user interaction required
https://html5sec.org/
Enumeration description; password: The credential is a long-term authentication username and password, as described in [[!RFC5389]], Section 10.2.
http://w3c.github.io/webrtc-pc/
UpCodes offers a consolidated resource of construction and building code grouped by jurisdiction.
https://up.codes/viewer/district-of-columbia/ifc-2012/chapter/9/fire-protection-systems
I'm wondering how browsers internally works. Now, connecting to different Web sites using 'Tabs' within the same browser can be handled in one of two ways: 1 - Using ...
https://stackoverflow.com/questions/6632801/do-web-browsers-use-different-port-numbers-for-open-tabs
Have you ever had the feeling that your head is not quite big enough to hold everything you need to remember? Welcome to TiddlyWiki, a unique non-linear notebook for ...
https://tiddlywiki.com/
what is the difference / advantage / disadvantage of writing script at the bottom of the page and writing the script in $(document).ready(function(){});
https://stackoverflow.com/questions/6026645/document-readyfunction-vs-script-at-the-bottom-of-page